Crochet Hats – I see a lot of happy little girls at Easter this coming year!!
Wow! Its taken days and days of scouring the net to find info on this hat and i finally found more info, someone wrote a pdf in English and it's here:
http://static.knittingparadise.com/upload/2014/10/6/1412629281371-knitting_wonderful_summer_panama_hats_for_girls_revised.pdf
I also found info here: http://craft.easyfreshideas.com/knitting-wonderful-summer-panama-hats-girls/
If anyone finds more please let me know!!
Just found a source for hat sizing: http://anniespictureperfect.blogspot.com/2013/01/how-to-properly-size-crochet-hats-chart.html
Source: Google Translate
https://translate.google.com/translate?hl=en&sl=ru&tl=en&u=http%3A%2F%2Fwww.liveinternet.ru%2Fusers%2F4163063%2Fpost276192485%2F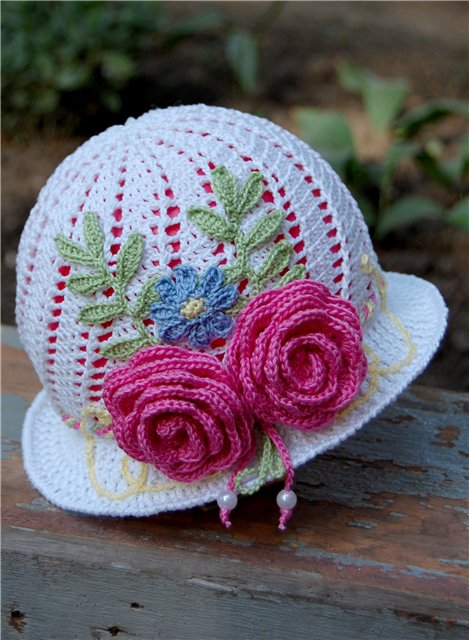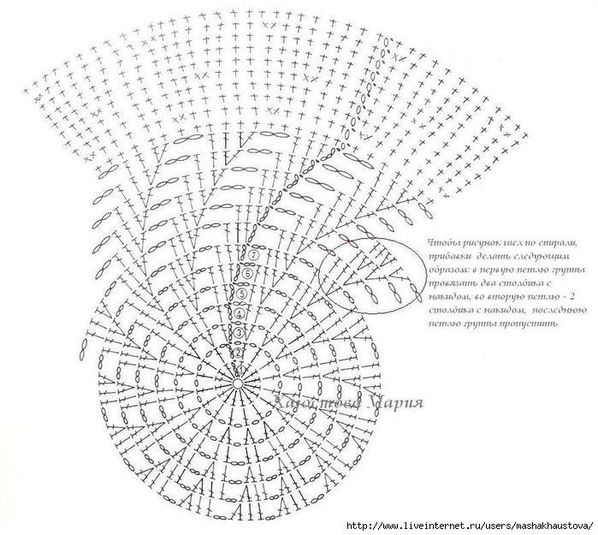 Chart above (for above white hat) found at: http://crochet-plaisir.over-blog.com/article-chapeaux-fleuris-et-leurs-grilles-gratuites-au-crochet-102962076.html
There are many more lovely hats on that site…really nice!
————————————–
KNIT WONDERFUL SUMMER PANAMA HATS FOR GIRLS
Google translate says 'knit' but we know it's crochet…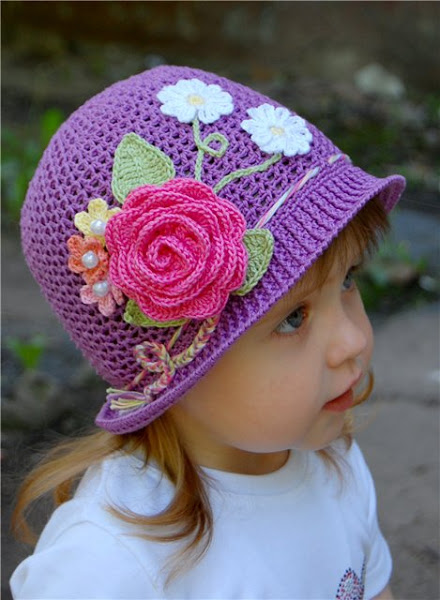 https://translate.google.com/translate?hl=en&sl=ru&tl=en&u=http%3A%2F%2Fwww.liveinternet.ru%2Fusers%2F4163063%2Fpost276192485%2F
—————————————
And here is a link to a video on making a similar hat:
http://redhairedamazona.blogspot.com.au/2015/05/russian-little-girls-cloche-hat-movie.html
http://redhairedamazona.blogspot.com.au/2015/05/russian-little-girls-cloche-hat-movie.html
And to top it off here is a chart of hat sizes…
——-
Here are some links to flowers that you can crochet:
http://crochetingthedayaway.blogspot.com/2014/01/three-layer-flower-pattern.html
http://www.craftsy.com/pattern/crocheting/other/free-gratitude-flower/77655
http://mycrochetstuff.blogspot.com.au/2008/05/little-flowers-with-leaves-free-crochet.html
ANd here's another beautiful hat:
http://crochet-plaisir.over-blog.com/article-chapeaux-fleuris-et-leurs-grilles-gratuites-au-crochet-102962076.html